Full Mouth Restoration - Smile Makeovers in Nobleton
A full mouth restoration, or smile makeover, aims to bring your entire mouth to full health again.
People suffering from crooked, missing or damaged teeth, or who have gum problems, will have a number of treatments, depending on their specific needs, to restore their smile. 
Kingleys Dental's extensive list of restorative treatments includes:
    Teeth Cleaning

    Periodontal treatments

    Endodontic treatments

    Orthodontics

    Dental implants

    Porcelain Crowns, or gold teeth

    Dental Bridges

    And more...

Dr. Henry Wong will carry out an extensive examination of your mouth and work with you to create an appropriate treatment plan. We believe every patient's needs are different and will do everything we can to help you achieve a smile you can be proud of showing. 

To find out more about our restorative dental procedures, visit our office at 13255 Hwy 27, Unit B4, Nobleton, Ontario. L0G 1N0
Contact us | Request an appointment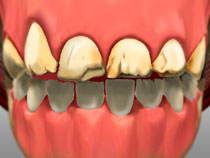 Last Updated On
2019-07-17